Here is a list of items that have been added to The Corpse Collective Premium website between May 8, 2015 and May 17, 2015. Make sure to log on to http://premium.corpsecollective.net, log in and click "Recently Added" to get right into the new stuff.
We start off with some Corpse Collective and DieMonsterDie stuff: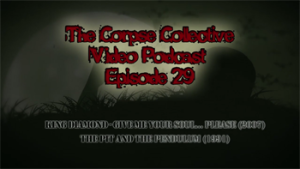 The Corpse Collective Video Podcast Episode 28. This episode we're talking about King Diamond's most 2007 album called Give Me Your Soul… Please. Then we move on to talk about Full Moon Features' The Pit and the Pendulum starring Lance Henriksen.
Then we're treated to a glimpse of Shane Diablo's true passion… Acting. He has prepared a dramatic reading from an original piece by Shane Dee entitled: Love and the Law.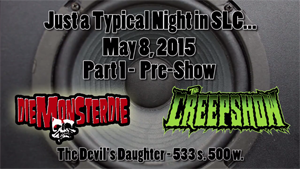 There's a new mini-series on Premium entitled Just a Typical Night in SLC. This will give the viewers insight into what goes on in the desperately sleazy town of SLC. The first three parts of this series are in the can. Filmed on May 8th, 2015, this series will detail what goes on when DieMonsterDie plays a gig in Salt Lake City, opening up for The Creepshow. This is part 1, which is the pre-show goings' on.
We also have some behind-the-scenes audio to share. While we recorded The Corpse Cast episode 145, the microphone was recording as Shane and I had a conversation about friendship, great classic rock, and single white females.
Also, we have a handful of "Zom-Bee TV Presents" films that are new to the Corpse Collective Premium Site… All these are hosted by the beautiful and talented Zom-Bee Girls! Here is a list and some details: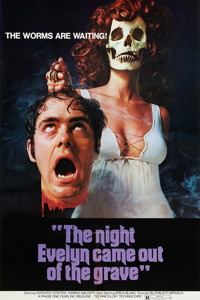 A wealthy pervert lures beautiful young women to his castle so he can have his way with them.
A compilation of film clips and trailers from exploitation films, hosted by actor Steve Buscemi and Mark Boone Junior.
Three people driving into Los Angeles for a Dodgers game have car trouble and pull off into an old wrecking yard where they are held at bay by a bloodthirsty psycho and his crazy girlfriend.
A mute alien with the appearance of a black human is chased by outer-space bounty hunters through the streets of Harlem.
Enjoy!