Alright Folks! We've got another round of additions for The Corpse Collective Premium Site!
First of all, we've got a behind-the-scenes look at what goes on while we are filming the video show. Sometimes the camera turns on before action is called and we've put together some sweet nuggets for this video.
Next, we have the final part of Just a Typical Night in Salt Lake City for May 8th. It starts off with Shane's interview of The Creepshow, then we have their entire set that they played that night.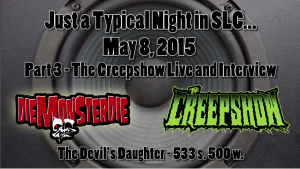 Finally, we have some Zom-Bee TV film selections:
Messiah of Evil (1973): The film that we talked about on Episode 144 of The Corpse Cast. A young woman goes searching for her missing artist father. Her journey takes her to a strange Californian seaside town governed by a mysterious undead cult.
The Pyx (1973): A detective investigating the death of a heroin-addicted prostitute uncovers evidence pointing to the existence of a murderous devil cult.
Dr. Frankenstein's Castle of Freaks (1975): Brazzi plays mad Dr. Frankenstein, Dunn is an evil dwarf and Lugosi (no relation to Bela) is a Neanderthal man. Add a monster named Hulk, and some nude women for sexploitation value.