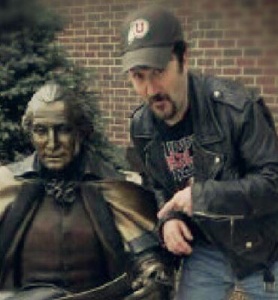 My name is Troy and I born and raised in Salt Lake City Utah. I was born on the fateful day of May the 6th 1966 (one month shy of being the devils child according to my mother lol). I have tried to employ myself into the graphic arts but always end up in retail or some job that ends up being three steps back.
What makes me a horror fan you say? Well it all starts off with the Universal Monsters and Dracula. Christopher Lee was the ultimate Dracula. I ate, drank and breathed Dracula when I was rolling around in the seventies. Hammer Horror piqued my interest and I loved watching those films when I would get to the babysitter's house and turned on the "Big Money Movie" on a local TV station, KSL. Vincent Price, being his flamboyant self, added to my addiction of being a horror fan when I watched "The Raven" with my fifth grade class. I also enjoyed Nightmare Theater on another station here in Utah on a Saturday nights. Nightmare Theater would have a double feature that I would watch even though I had to fib to my parents to be able to stay up and enjoy the films long into the witching hour. Watching "The Exorcist" at an early age almost put and end to watching horror movies altogether. Nightmares of Reagan under my bed and closet would keep me up at night. The eighties were a great time for horror because all the gems that came out from that era…
I love all books, comics and music that span into the horror genre. Growing up in the seventies, of course, I was with KISS and Alice Cooper very early on. I was into comics… everything from Marvel's Dracula comics to Eerie and Creepy magazine. Buying issues of these publications was a religious experience every month for me. In my high school years, I really got into Horror literature reading authors such as Poe, Lovecraft and King. I also enjoy Horror podcasts. Some of the ones that I listen to  on a regular basis are The Corpse Cast, Padded Room and Krueger Nation. I jump around with others but grow tired of them being such chuckle-head haters.
So, happy hauntings! and have fun seeking out and watching the horror movies that we're suckers for!