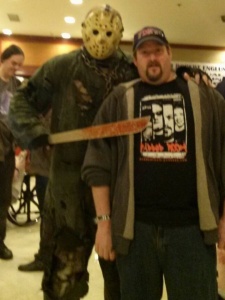 NAME – Tom (aka Graciespoppy, aka GP)
HOMEBASE – Frenchtown, NJ
AGE – 45 (for now)
OCCUPATION – Cook
FAVORITE HORROR MOVIES – Many and varied. I am, however, on record that Halloween is my favorite franchise. Well, the first 5 films anyway.
FAVORITE MUSIC – Also many and varied, but my mainstay is Progressive Rock/Metal. My top five in this category is (in no particular order) Dream Theater, Savatage, Queensrÿche, Fates Warning and Tad Morose.
FAVORITE AUTHORS – Stephen King, Raymond E Fiest and Robert Lynn Asprin
Hey gang, just a little bit more about myself. I was born in Trenton NJ, grew up in Morrisville PA, and now live in Frenchtown NJ with my wife and three kids (no mortgage though… I rent) All three places are along the Delaware River, which is on the PA/NJ border, and I have family on both sides. I've never felt that I "belonged" exclusively to one state or the other, but when it comes to my sports…Philly all the way baby!
Why Graciespoppy? Well, that was my email acct when I signed up for the ol' Cadaver Lab Forums (predecessor to The Corpse Cast). So, when I called the show to harass Mike and Sam (The Lovely And Talented!), I would let them know that it was Graciespoppy from the forums. Eventually that got shortened to "Gracies", then finally to "GP".
What does it mean to be "GPed"? Well, it was beautiful and lovely sunny afternoon. I was in the parking lot at work, ready to go in for my daily grind. I had some time, so I decided to call the Bone Phone. I forget what it was about… probably just to harass Mike. I don't think that I made it 20 seconds before my call got dropped. I was perturbed. I called again, and was very shortly dropped again. I was pissed! I called back to give what for… and was dropped after about 5 seconds. I lost my shit! Apparently, this was amusing to some people. Not long after, someone else called and got dropped. It was then that Mike coined the phrase, "He got GPed". The rest, as they say, is history. Or infamy as it were.
Why do I love horror? Not really easy to explain, but I'll give it a shot. I think that there is an artistry to horror. Well, some of it is just an excuse to see some tits and make a buck… not that there's anything wrong with that! But the ones that stand out have an imagery and atmosphere that just chills your heart a degree or two. Not just in movies either, but in music, books, games and in prints and paintings. Photos as well. An old black and white picture of an abandoned and dilapidated house, maybe with some early morning mist rising from the ground… your imagination would go into overdrive thinking about what might have gone on inside there. And is that a ghost peeking out of the window!?!
My earliest horror memories are of watching the Creature Double Feature and the Dr Shock shows on Saturday afternoons after the cartoon shows were done for the day. I think that's where my love of horror began. Dr Shock was a local Horror Host out of Philly in the 70's. He was also a magician and loved hosting horror movies. He sometimes had his little daughter with him to present the movies and have some fun during the breaks. That's where I learned to associate horror with fun. And I must say, nothing against Joe Bob or Elvira, but you gotta give these local Horror Host a lot of love! They are willing to make fools of themselves for a chance to share their love of horror with the rest of us and maybe help create a new generation of fans.
And there it is in a nutshell. A very large, bloated and somewhat cracked nutshell. This is just a part of what makes me… me. And, if you would indulge me one more time, I have a playlist on Spotify called In The Halloween Mood. It's filled with music from Midnight Syndicate, Nox Arcana and many, many horror movie scores and soundtracks, and some other fun stuff. There's almost 500 songs on there, and I add more every now and then. If you feel inclined to check it out, the best way to listen to it is in "Shuffle Play" mode. Hope you enjoy it.
That's it for me. I'll "see" y'all on the Bone Phone!
http://open.spotify.com/user/1216171558/playlist/3rHQw2QhhfTh2k7Uc2RVv7