Here we are again folks… It's time to talk about some more premium content ready for you to devour! Don't know what premium is? Find out HERE! then sign up HERE!
Here's the rundown.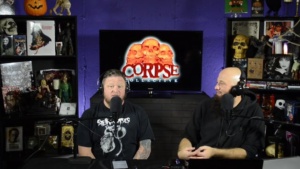 Starts off with Episode 46 of The Corpse Collective Video Show where we're talking Clutch and Book of Shadows: The Blair Witch 2
Next up we have the greatest horror punk song ever written… Performed by our own Shane Diablo!
Then we have a Zom-Bee TV holdover… A short film called OTHER.
You like Gialli? Well you won't for long after you see this Giallo spoof called Isola Del Maledetto!
Next up we have a classic sci-fi horror film called Devil Woman from Mars!
…and as if all that wasn't enough… Finally we bring you a motivational video… get those buns working!