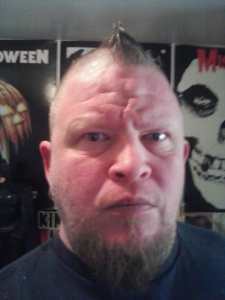 Chicks dig him. Weighing in at 247 pounds of pure pudding and sexytimes. He has quoted himself as saying " Ya know, there just ain't any real renaissance men, like myself anymore". A lover and a fighter… and a lover of all things horror, and then some!
Founding member of the world famous Horror Punk band DieMonsterDie. Owner of Dr Cyclops Records, founder of World Horror Network and Horror-Punks.com.  He loves to stay busy! Music is his love. He has played drums for 20 years. He also does a horror music podcast called Diablocast. Also, he is a master wordsmith of the art of Rap music, and have released music under the name "Big Peazy"… He likes guns, and a nice salad if ya have something in mind. He likes beer. ALOT! He enjoys a nice pat on the back or hug from time to time. kisses are good too. He likese all types of music and sometime he horrifies people when he says he like Lady Gaga or K Pop…
"He has one of the sexiest voices I have ever heard"- Shane Diablo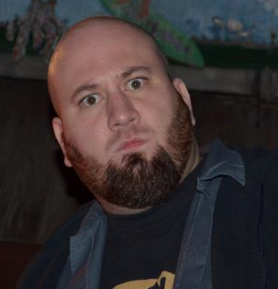 Born and raised in a small Amish town, Mike is an avid beard-with-no-moustache connoisseur. Being big and bald, Mike hides his insecurities by being off-putting and offensive to others. An avid horror fan and a Cadaver Lab Horror Podcast Alum, Mike is always looking for something to watch that will drive those around him away.